How Phentermine Works in the Body
Obesity – A Serious Global Endemic
Obesity has become a serious concern in today's world. In fact, nearly two-thirds of all Americans are considered either obese or overweight. Obesity has been linked to many cardiovascular diseases (CVD) such as diabetes, hypertension, obstructive sleep apnea and dyslipidemia.
There are many reasons for rising obesity, however, according to the World Health Organization, there is now a huge imbalance between calorie consumption and caloric expenditure. Thanks to a higher intake of energy-dense, high carbohydrate foods and increased levels of physical inactivity, obesity has become an endemic today.
The best solution for obesity still remains a healthy diet and exercise. However, there are many times when eating healthy and exercising are not enough and medical intervention is required. This is because most obese patients' calorie set point in their brains is set too high either due to genetics or lifestyle.
Whatever the reason may be, some people's brains have been programmed to make them overweight. In these cases,  medical intervention in the form of diet pills can really help a patient lose weight.
Diet pills have gained themselves a notorious reputation. Advertised as nothing short of miraculous, many diet pills have been cataloged as dangerous and something to be avoided. The truth, however, is that used as an addition to a healthy eating plan and an exercise regimen, diet pills can be very safe and effective.
We take medicine when our head hurts, when our stomach is upset, when our joints are sore, and any time our bodies don't work like they are supposed to. So why is it that when it comes to losing weight, something that has proven to help reduce the risk of diabetes, high blood pressure, and cardiovascular diseases, we deny our bodies from the help of medication?  People don't bat an eye when you tell them you are considering getting invasive bariatric surgery (gastric bypass, gastric sleeve) which carries the risk of death but if you mention diet pills you are told you're crazy.
Phentermine is one of the most commonly prescribed weight-loss drugs in the world today and it works. Let's talk about what lies behind the infamy of diet pills and how phentermine works.
What is Phentermine?
Phentermine, whose chemical name is phenyl-tertiary-butylamine, is a Schedule – IV prescription drug that is used in conjunction with diet and exercise for the treatment of obesity. It is a controlled substance and can only be issued on a prescription because of its similarities to amphetamine.
This drug was approved in the United States for medical use in 1959 and has become one of the most popular drugs for weight loss across the world. Over 7 million prescriptions are written every year. Today, phentermine is available under the brand names Lomaira, Adipex-P, Suprenza, etc.
Phentermine has also been combined with other weight loss drugs since the 1990s, of which the most commonly used is Qsymia.
How Does Phentermine Work?
Phentermine is an anorectic drug, which means it is an appetite suppressant. The drug stimulates the release of chemicals, or neurotransmitters, in the brain. The neurotransmitters whose levels are increased by this drug are norepinephrine, dopamine and serotonin.
With the increase in the levels of these chemicals in your brain, you feel full and therefore eat less. Over time, this can lead to weight loss, especially if accompanied by a proper diet and exercise.
What Does Phentermine Do to the Body?
There have been several clinical studies conducted that have proved that phentermine helps in weight loss, and indirectly, the reduction of blood pressure and blood sugar (the reduction in A1C) as well as a reduction in mortality related to cardiovascular diseases.
The control of weight related diseases is shown to be a direct result of weight loss, rather than the effect of the phentermine. Due to weight loss, risk factors to health also go down, such as an improvement in insulin sensitivity, and the reduction of inflammation and blood pressure.
Lipid profiles also show improvement, especially in triglycerides as well as HDL cholesterol. It also has shown a significant decrease in a patient's progression to Type 2 diabetes.
While blood pressure is reduced due to the effects of weight loss, the heart rate of a person on phentermine may go up.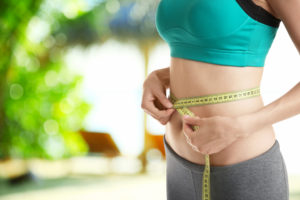 What is the Dosage of Phentermine?
Phentermine is taken orally and is usually prescribed for up to 12 weeks at a time to promote weight loss. At Rivas Medical Weight Loss we will treat you for a longer period of time.
Until 2016, phentermine was only available in 3 doses of extended-release capsules – 15mg, 30mg, and 37.5mg. Most recently the FDA approved an 8mg dosage in tablet form that can be taken 3 times a day.
Phentermine can be taken either as an extended-release capsule or a tablet. The 30 mg capsule or 37.5mg tablet is usually taken once a day in the morning, 1 to 2 hours before breakfast. The 8mg tablet can be taken up to 3 times daily, 30 minutes before a meal. For better appetite control higher doses may be necessary.
An important point is not to crush the extended-release capsule as this will increase the absorption of the drug, which will defeat its purpose and may also cause some serious side effects.
How Long Does Phentermine Take to Work?
Phentermine is absorbed via the gastrointestinal tract after being ingested orally. After ingestion, phentermine reaches peak concentrations in 3 to 4.4 hours. The drug's half-life is about 25 hours. A half-life is the time it takes for half of the dose of the drug to be metabolized by the liver or be excreted unaltered through the urine.
What Does Phentermine do to Help You Lose Weight?
Phentermine helps you lose up to an average of 5% of your total body weight. However, studies have shown that over a period of 12 weeks, weight loss can be as much as 10% of your body weight. In practice, we have patients that have lost upwards of 50% of their bodyweight.
Despite the fact that most medical practitioners advise using phentermine for not more than 12 weeks, a recent study has shown that taking this drug over the longer term of up to 24 months has resulted in greater weight loss.
This study was conducted by Kristina H Lewis, MD, of the Wake Forest School of Medicine in Winston-Salem, North Carolina. She and her colleagues collated 13,972 adults' electronic health records whose data was then organized by length of phentermine use.
The average age of the subjects was 43.5 years, and the average BMI was 37.8. From the data, it was found that those who had used phentermine continuously for greater than 12 months had shown 7.4% higher weight loss than those who had used it for the prescribed 3 months (12 weeks).  
Who Can Use Phentermine?
Phentermine is recommended for people who have a significantly higher BMI (body mass index) than the norm.
BMI is a simple index that measures the ratio of weight to height, and it is used to classify overweight and obese adults. It is calculated by dividing the weight of a person (in kilograms) by the person's height squared (in meters). The formula is kg/m².
A person with a BMI of up to 24 kg/m² is normal in terms of weight. A person with a BMI of 25 kg/m² or more is considered overweight, and a person with a BMI of 30 kg/m² is considered obese.
People who fall into the overweight or obese category are prescribed phentermine. Children below the age of 16 cannot be prescribed this medication.
Additionally, those who have pre-existing heart diseases such as coronary heart disease, congestive heart failure, heart rhythm problems or have had a stroke, should not take this medication.
Other medical conditions such as uncontrolled high blood pressure, untreated thyroid problems (hyperthyroidism), pulmonary hypertension or untreated glaucoma, also prevent the use of this drug.
If you have taken an MAO (Monoamine Oxidase) inhibitor, which is a class of antidepressants, in the last 14 days, then phentermine is not recommended as there could be a dangerous drug interaction. Rasagiline, tranylcypromine, selegiline, phenelzine, linezolid and isocarboxazid are MAO inhibitors.
Phentermine and Eating Disorders
People who suffer from BED (Binge Eating Disorders) or bulimia nervosa can also benefit from the use of phentermine.
BED is a serious disorder where a person eats large quantities of food to the point of discomfort. The person also experiences a feeling of losing control while binging and an intense sense of guilt or shame after the binge.
A person with bulimia nervosa also has similar binge eating behaviors and emotional responses, however, tries to compensate for his or her uncontrolled eating by inducing vomiting after the binge.
Studies have shown that obese or overweight people who suffer from BED or bulimia nervosa, and have been treated with phentermine, have lost not just weight, but also seen a reduction in binge eating episodes. In one particular study, patients' binge eating days went down from an average of 16.2 to 4.2 days.
Phentermine Side Effects
Side effects include an unpleasant taste in your mouth or a dry mouth. You may also experience constipation, diarrhea or vomiting. More serious but rare side effects include increased blood pressure, palpitations of the heart, dizziness, restlessness, tremors, insomnia, shortness of breath, chest pains, severe skin problems and swelling in the legs and ankles.
In practice Phentermine is very well tolerated by the majority of our patients. We have found that dry mouth is the most common and persistent side effect.
Phentermine and Drug Abuse
Like amphetamines, phentermine has stimulant properties, since it works by increasing the levels of serotonin, norepinephrine and dopamine. For decades now, patients have been warned of the risk of addiction, because of which the drug is a tightly regulated medication that is generally prescribed for short term use, and is not recommended for people with a history of drug abuse.
However, the latest research into the drug shows that phentermine shows low addictive potential. In fact, the DAWN (Drug Abuse Warning Network) report that was published in 2006 by the US Department of Health and Human Services' Substance Abuse and Mental Health Services Administration showed that anorectics like Phentermine actually had among the lowest drug abuse rates per 100,000 emergency room. This figure was even lower than ibuprofen abuse cases.
Despite the fact that the chemical structure of phentermine is similar to amphetamines, the drug has proved to have little or no addictive potential. Studies have also shown that the drug does not have any withdrawal symptoms.
Phentermine and Pregnancy
Phentermine is not recommended for women who are either pregnant or breastfeeding. Firstly, it is not recommended for women to lose weight during pregnancy, since it can lead to medical complications for both the mother and the baby.
While there have not been many studies conducted on the effects of phentermine on pregnant or breastfeeding women and their babies, it has been shown that the use of this drug during pregnancy may lead to pulmonary hypertension, a rare, but fatal lung disorder.
Studies also show that the use of phentermine during pregnancy in the first trimester significantly increases incidents of gestational diabetes and high blood pressure for the mother.
There is little information with regard to risks to babies if they are exposed to phentermine during pregnancy. Two reports show no increased risk of birth defects or any other negative outcomes for the baby if a woman is exposed to the drug during pregnancy.
It is not advisable to use phentermine if you are breastfeeding. The drug can be passed on to your baby and may result in harm.
A Case for Extended Use of Phentermine
Bariatric medicine commonly prescribes off-label continuous use of phentermine for more than the recommended 12 weeks. International literature on the subject has supported the theory that short-term medications for chronic illnesses such as obesity is not logical. After all, treatments related to other chronic illnesses are not stopped when improvement is recorded.
Regulations for the use of phentermine were put in place 50 years ago and have not really been updated since then. However, since then research has shown that long-term use of the drug for up to a year or more is an effective way to lose weight and sustain weight loss.
However, more studies are needed with documented results to prove the efficacy of a new long-term treatment plan for obesity using phentermine.
Let Rivas be your Resource
Hopefully, this article has taught you more about Phentermine and how it works in the human body. As medical experts up-to-date on real science, we are here to help you sort through the details. Please feel free to reach out and book an appointment at www.Rivasweightloss.com
Book a risk-free consultation now